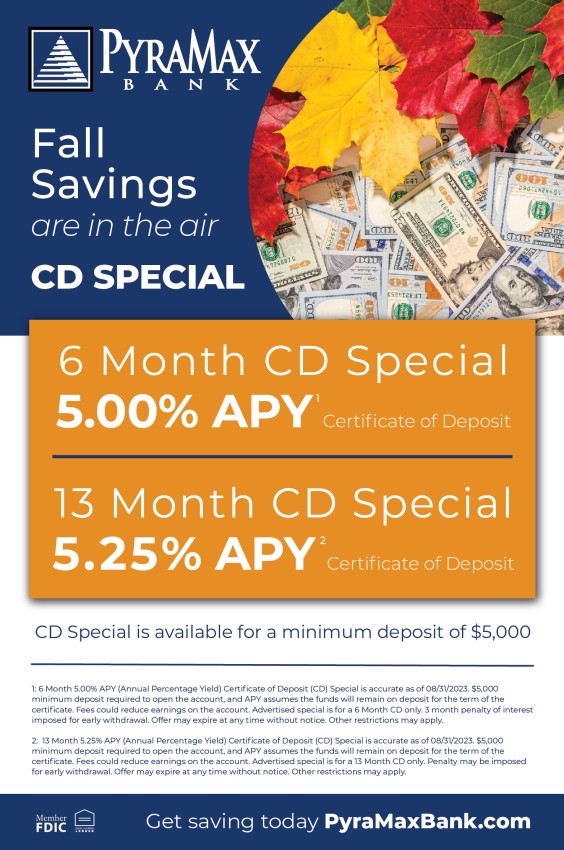 Make More of Your Money
Whether you are just starting out or saving for something specific, make the most of your money with a certificate of deposit (CD).
To reach your short- and long-term savings goals, we can provide the right product for you. Grow your money and retain full liquidity with a CD. You choose the term and lock in an attractive interest rate that is guaranteed for the term of the account.
CD Features
Terms ranging from 3 month to 5 years
Special terms and rates
Fixed-rate CDs
Low minimum balance to open
Competitive interest rates
12-Month Add-On Certificate
Our 12-month add-on certificate helps you achieve your savings goals by blending the deposit feature of a savings account with the competitive interest rate feature of a CD. Use this CD to save for the holidays, taxes or anything else you desire.
With a low minimum balance requirement of $100 and allowable additions of as little as $25, this account can fit your needs. Interest is paid quarterly, and withdrawals can be made at maturity*.
For more information, please contact a client service representative at a bank branch near you.
CD Rates
Comparison table of CD Rates
Term**
Minimum Balance to Open and Earn APY*
Interest Rate
APY*
6 Month Fixed Rate Special***
$5,000

.00

5.000%
5.000%
13 Month Fixed Rate Special
$5,000

.00

5.150%
5.250%
3 Month Fixed Rate
$1,000

.00

0.100%
0.100%
6 Month Fixed Rate
$1,000

.00

0.100%
0.100%
12 Month Add-On
$100

.00

0.200%
0.200%
18 Month Homebuyers
$100

.00

0.200%
0.200%
1 Year Fixed Rate
$1,000

.00

0.200%
0.200%
2 Year Fixed Rate
$1,000

.00

0.300%
0.300%
3 Year Fixed Rate
$1,000

.00

0.400%
0.400%
4 Year Fixed Rate
$1,000

.00

0.500%
0.500%
5 Year Fixed Rate
$1,000

.00

0.600%
0.600%
Savings Calculator